"We kill one, and maybe, save a thousand"
— Fox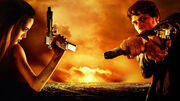 The Fraternity is a group of assassins who had superpowers. In the film, The Fraternity was once a group of weavers who discovered a hidden code in the fabric, these were Binary Codes. They spelled out names from these codes and formulated theories that these names were judged by Fate itself to be killed. With this fact, the weavers themselves became elite assassins.
Assassin - Someone tasked to kill people for a price
Loom of Fate - The base room for reading the "instructions" of Fate
Ad blocker interference detected!
Wikia is a free-to-use site that makes money from advertising. We have a modified experience for viewers using ad blockers

Wikia is not accessible if you've made further modifications. Remove the custom ad blocker rule(s) and the page will load as expected.