The Exterminator

Biographical Information

Occupation

Assassin

Status

Deceased

Cause of Death

Shot

Killed By
Relationship

Character Information

Portrayed By
Appeared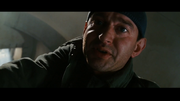 The Exterminator was the Chicago Fraternity's demolitions expert. He is portrayed by Konstantin Khabenskiy.
Along with Fox, The Exterminator was one of the few friends Wesley Gibson had in the Fraternity. During Wesley's assassination training, The Exterminator introduced himself to Wesley during his first visit to the Textile Mill's Recovery Room. He was also the man behind the idea of the Explosive Rats.
In a chase between Wesley, The Exterminator, Fox, and Cross, Wesley accidentally shot The Exterminator. He was transported back to the Recovery Room, but his wound was too severe and he died.
Ad blocker interference detected!
Wikia is a free-to-use site that makes money from advertising. We have a modified experience for viewers using ad blockers

Wikia is not accessible if you've made further modifications. Remove the custom ad blocker rule(s) and the page will load as expected.