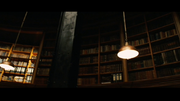 The Records Room was a room within the Chicago Fraternity's Textile Mill headquarters where an account was kept of every assassination that the group had done.
Wanted (film)
Edit
Wesley used the Records Room extensively to look for a lead on Cross. The climax to Wesley's attack on the Chicago Fraternity took place here.
Wanted: Weapons of Fate
Edit
Shoot that Motherfucker! partly takes place in the Records Room.
Ad blocker interference detected!
Wikia is a free-to-use site that makes money from advertising. We have a modified experience for viewers using ad blockers

Wikia is not accessible if you've made further modifications. Remove the custom ad blocker rule(s) and the page will load as expected.