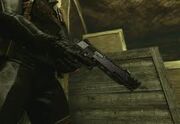 "I'm an asshole with a gun and a cool suit"
— Wesley's response to The Immortal
The Nightshade Pistol is the advanced handgun used by Cross and his son, Wesley Gibson during the course of the game.
The Nightshade is a customized pistol which is based on the M1911 & Beretta 92 9mm handguns. All advanced assassins have possession of this customized pistol, including Cross. Wesley has this as a replacement for his old gun after he received the Killer Suit. Here are some features of the Nightshade compared to Wesley's Flyswatter and its original M1911/Beretta 92 version;
Here are some gameplay tips regarding this weapon;
Ad blocker interference detected!
Wikia is a free-to-use site that makes money from advertising. We have a modified experience for viewers using ad blockers

Wikia is not accessible if you've made further modifications. Remove the custom ad blocker rule(s) and the page will load as expected.