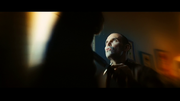 Max Petridge is a minor character in Wanted. He is portrayed by Brad Calcaterra.
Max Petridge was a hired killer who liked to burn his victims alive in front of their loved ones, and then brand his initials on them. When she was a child he was hired to kill Fox's father, who was a tough judge on a racketeering case. He is the inspiration for Fox's faith in The Fraternity's code, because after she was recruited she found that a Fraternity member had weeks earlier hesitated to assassinate Petridge despite his name coming up on the Loom. What became of Petridge is unknown, either he continued his killing or he was eventually killed by the Fraternity.
Ad blocker interference detected!
Wikia is a free-to-use site that makes money from advertising. We have a modified experience for viewers using ad blockers

Wikia is not accessible if you've made further modifications. Remove the custom ad blocker rule(s) and the page will load as expected.