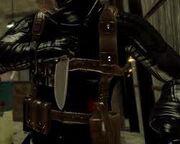 "Knives are easy to handle, they don't jam, and they never run out of bullets. They come in handy when you need some close contact work"
— The Butcher
Before Wesley acquired the Killer Suit, his standard melee weapon of choice was only a Knife (probably a stainless-steel kitchen knife). This can still kill enemies with one slice, however, it has a slower animation when compared to his custom knife, Heartbeat's End.
Ad blocker interference detected!
Wikia is a free-to-use site that makes money from advertising. We have a modified experience for viewers using ad blockers

Wikia is not accessible if you've made further modifications. Remove the custom ad blocker rule(s) and the page will load as expected.