Kill Orders appear in both Wanted and Wanted: Weapons of Fate. In the film, a Kill Order is a paper authorizing the assassination of the person whose name has been decoded from the Binary Code. In the game, a Kill Order is a collectible to unlock art, videos and team quotes.
Wanted (film)
Edit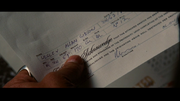 Wanted: Weapons of Fate
Edit
Achievements and Trophies
Edit
There is one Achievement and Trophy related to Kill Orders.
Finding all Kill Orders and Explosive Rates unlocks Compulsive Hoarder.
Ad blocker interference detected!
Wikia is a free-to-use site that makes money from advertising. We have a modified experience for viewers using ad blockers

Wikia is not accessible if you've made further modifications. Remove the custom ad blocker rule(s) and the page will load as expected.